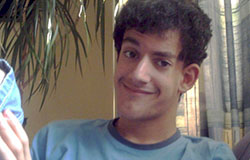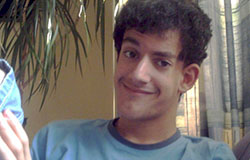 George Pantziarka was born on 28th July 1993.
From the moment he was born, he loved life and had an endless capacity to laugh that endeared him to everyone. He was doted on as the first male grandchild in a noisy, extended Greek-Cypriot family in London, where he lived with his mother, Gina, his father Pan and his sister Despina, who was seven and a half years his senior. He was to grow into a captivating, mischievous child, with big brown eyes and dark, curly hair.
When George was just over a year old, his mother developed ovarian cancer and died within weeks of diagnosis. He was fourteen months old. A few months later, George developed a hard lump to the side of his left eye. On his second birthday he was diagnosed with his first cancer – rhabdomyosarcoma, a cancer of connective tissue – in his temporalis muscle (the one that enables us to lift our eyebrow). After several months of chemotherapy, George was pronounced to be in remission, but within months the tumour had returned. It was at this point that George gained a stepmother and the new family set about mounting a battle to beat his cancer once and for all.
After weeks of radiotherapy, an operation and more chemotherapy, traces of microscopic disease remained and George was given a 5% chance of survival. He did survive however and, despite a few scares along the way, regular hospital appointments and a slight disfigurement to his face, he led a reasonably normal, happy childhood and became big cousin George – the centre of attention for his many cousins. The family moved house and made a new beginning and when he was five years old, George acquired a baby brother, Louis. The two boys grew up sharing a room together and were either fighting tooth and nail or completely in cahoots.
All was well for many years and cancer seemed a thing of the past when, at the age of fourteen, George suddenly developed a small lump behind his right ear – almost certainly the result of the radiotherapy he had received as a small child. The lump – a basal cell carcinoma – was successfully excised and George and everyone was much relieved. A few days later however, he began to experience a tingling sensation in his chin, which grew increasingly worse over a fraught summer, with George being referred backwards and forwards between dentists at St George's Hospital and oncologists at the Royal Marsden. He was assured it was not a dental problem, nor a cancer problem. Then, at the end of the summer, as he was experiencing increasing pressure on his lower back teeth, he visited his local dentist, who referred him immediately to St George's. X rays had showed something pushing a wisdom tooth prematurely out of the George's gum. A further scan revealed a tumour in the jaw. George was finally diagnosed with osteosarcoma of the jawbone, his third cancer by the age of 15.
There followed a whirlwind time of scans, X rays, cardiograms, kidney function tests, traipsing long hospital corridors with mum and dad in tow, up and down lifts from one department to another – and the endless waiting that others reading this will know only too well. George, a typical teenager, went straight on to the internet and discovered he had a 40% chance of surviving 5 years. His parents told him the story of when he was a little boy and was sent home to die. He had survived against all odds. They would battle this one too.
A couple of months later, came the test for Li Fraumeni Syndrome. George's mother had died of cancer at the age of twenty nine and, at the age of fifteen, her son was experiencing his third cancer. The test confirmed that George had LFS. Fortunately his father, his sister and his brother did not. The family now faced the prospect of George developing new cancers, even after hopefully surviving this one. It was a devastating time; they had never heard of LFS before and his parents had no idea how they were going to protect him in future. There were no support groups, there was no one to turn to for help. Meanwhile, they set their minds to battling the present cancer.
George looked to the future.. He conversed with friends on Facebook, texted his sister during those long hospital hours, competed with his cousins and uncles at table football in hospital. He had a quiet determination that never left him. He studied for his GCSEs as best he could – in school when he was able and in hospital when he wasn't. He never let go of life for one moment.
A year into his treatment, after two long rounds of chemotherapy and a twelve hour operation to remove the tumour and reconstruct his jaw with bone from his leg, the tumour returned. From then on, George underwent various chemotherapy treatments, immunotherapy, photodynamic therapy, chemoperfusion. After the third operation attempting to remove the tumour and reconstruct his jaw, he was declared free of disease. Later, on that same day, he was informed that the disease had metastasised to his pelvis. Months later it spread to his throat; it was this last tumour that would eventually affect his brain functions and kill him.
For two years and eight months George doggedly fought the disease. His struggle for survival took him to several hospitals, from London to Frankfurt and then half way across the world to China.
George passed away at home on 25th April 2011. He fought to the last and never gave up on living. He inspired all who knew him. He inspired his parents to set up the George Pantziarka TP53 Trust to support others in similar situations.
George's story is told in the book 'For The Love of George' by Irene Kappes (Pantziarka). But please note that whilst the book is full of warmth and humour, as well as George's love of life, it is nonetheless a very harrowing story.